Cancellation of the Fascial Connection 2022 International Congress, Cancun Mexico.
We regret to announce that due to security and prevention measures in relation to Covid-19 and its Omicron variant, the Fascial Connection 2022 congress will be cancelled.
Students who have already registered for the congress in "face-to-face" or "online" mode, please contact our secretariat by email: info@fascialconnection.lat We will respond to them as quickly as possible and find a satisfactory solution to the given situation.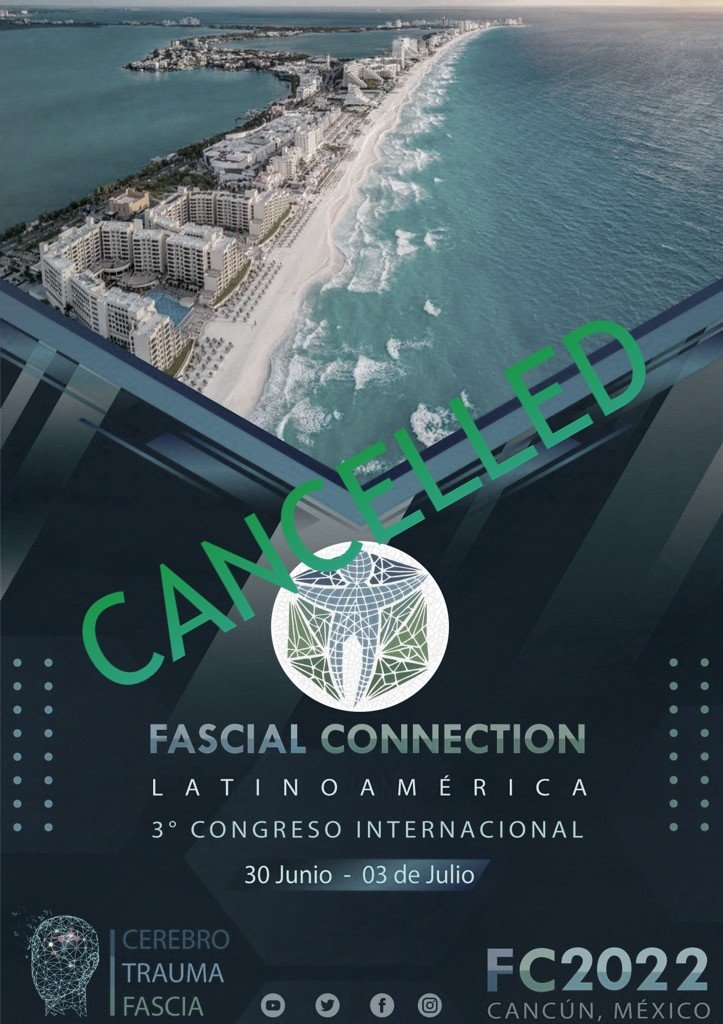 ANALYZING THE CURRENT SITUATION
Currently, given the sanitary conditions in Mexico and neighboring countries, we are forced to stop and cancel the congress. It is a great pity and sadness that we also wanted to share with you given the deep, hard and long work that this congress has already done and that for health reasons we must cancel.
The organization of a congress of this magnitude requires at least 18 months. After Fascial Connection 2019 in Buenos Aires, we have already begun to program it and carry it out in our minds. Some professionals joined quickly and the congress began to take shape. Mexico, and especially the city of Cancun, offered us the right framework and environment to carry out our project. This is how the congress was born and later came the first health difficulties. We believed and were confident that with global vaccination this problem would be stopped and it would be a thing of the past. Then we saw that we should probably live with covid and adapt the congress to the new reality.
We also hypothesized that the new normality would arrive more quickly and that, with the new rules, we would be able to carry out our organizational work and enjoy our passion with each of you. Today none of this is possible, every day the rules and variants change; holding an international congress including more than 20 nations and an approximate convocation of 800 people is not feasible.
On the other hand, we also know that our work, like yours, goes through the treatment of human health, social connection, cultural and thought exchange, the co-regulation of human beings, the balance of emotions, physical maintenance and psychological etc We wanted to continue to be close and offer them new solutions to new problems.
Our team reworked several possibilities in the last few months and the last one left for us was to make the congress completely online. Doing the entire congress online is not a variant, given that certain human bases are lost and that the quality of therapeutic manual work is low. Fascial Connection has always shown its humanity, its quality and its professionalism above all else, and the online option does not adapt 100% to our philosophy of doing things in an impeccable way and seeking excellence in human development. Online jobs are good, nobody says otherwise, but like everything they have their limits; today we are looking for new solutions and what we have found is not suitable for a congress of this magnitude. It is probably more accessible for a course or training, but not for an international congress.
Our greatest wish is that you are in good physical and mental health, as well as your family and loved ones. We still have time in the future to continue programming successes and share moments and history with you. Mexico and the city of Cancun will have to wait a little longer and hopefully soon we will have news of a new personal and professional reunion. Now our priority is to commit ourselves to finding solutions for all those who have registered for the congress. They are students from more than 12 nations, who had already bet on FC2022 and who will have a response from us. We wish you the best and hope to see you soon, face to face, with a smile on your face.
Fascial Connection 2022 Organizing Committee, Cancun, Mexico.
First International Fascial Connection Congress
Second International Fascial Connection Congress